Music maestro Ayub Bachchu laid to rest in Ctg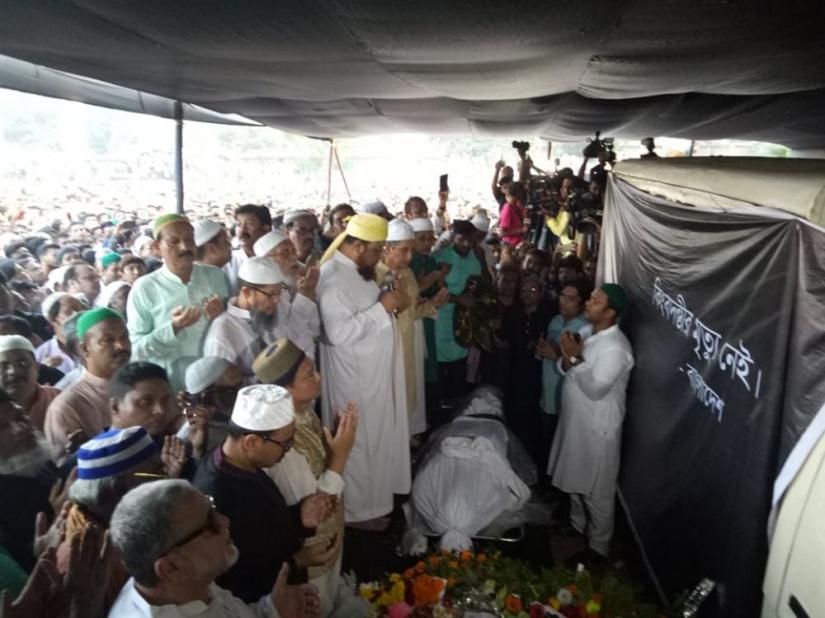 Rock Legend Ayub Bachcu has been laid to rest beside his mother's grave at his family graveyard in Chattogram on Saturday (Oct 20) evening. It was the musician's final wish to be buried beside his mother.
Earlier on Saturday morning, his body was brought to the port city where it was confirmed that Chittagong City Corporation will be handling his last rites and burial.
Bachchu's fans poured into his grandfather's residence to catch a last glimpse of him and say goodbye to the beloved icon.
His fourth namaz-e-janaza was held at the Jamiatul Falah Mosque premises at 3 pm where his son Ahnaf Tazwar addressed the people and asked for forgiveness on his father's behalf.
Ayub Bachcu- singer, guitarist, lyricist and composer passed away on Thursday (Oct 18) at Dhaka's Square Hospital after suffering a cardiac arrest.
The sudden demise of the 56-year old musical maestro left his fans and media community deeply shocked.
On Friday (Oct 19) his fans and contemporaries including cabinet members Asaduzzaman Nur and Obaidul Quader qued at the Central Shaheed Minar to pay their last respects to the musician.
Three more namaz-e-janazas were held for the musical genius at the National Eidgah Maidan, his studio AB Kitchen premises and Channel i premises respectively on Friday.

The veteran musician did not only popularize rock music in Bangladesh but was also one of the leading guitarists in the country.

He was well-known for his distinctive style and flamboyant look of his guitars and for over four decades the founder of LRB captivated audiences with his versatile music.
Born in Chattogram in 1962, Bachchu started his music career in the port city with the band Feelings in 1978. From 1980 to 1990, he was the lead guitarist of Souls before forming his own band LRB in 1991.
The next year, LRB released a self-titled double album, a first in Bangladesh, and immediately shot up to fame with hard rock numbers like "Madhobi" "Hawker", "Dhakar Sondhya" and "Ghum Bhanga Shohore".
The album not only showed Bachchu's creative abilities but also paved the way for him to become a musical maestro.
In the following years, LRB released 11 more studio albums — "Shukh" (1993), "Tobuo" (1994), "Ghumanto Shahare" (1995), "Shwapno" (1996), double album "Amader Bishmoy!" 1 & 2 (1998), "Mon Chaile Mon Pabe" (2000), "Achena Jibon" (2003), "Mone Achhe Naki Nai" (2005), "Sparsho" (2008), "Juddho" (2012) and "Rakhe Allah Mare Ke" (2016).
In 1996, LRB became the first Bangladeshi band to release a live unplugged album — "Ferari Mon".
Bachchu pursued a solo career, way before forming LRB. In 1986, when he was the lead guitarist of Souls, his first solo album "Rokto Golap" was released followed by "Moyna" in 1988.
His 1995 solo album titled "Koshto" was a huge hit. In the following years, he released several more solo albums — "Shomoy" (1998) , "Eka" (1999),"Prem Tumi Ki" (2002), "Duti Mon" (2002), "Kafela" (2002), "Rimjhim Brishti" (2008), "Bolini Kokhono" (2009) and "Jiboner Golpo" (2015).