India sends twenty three more Rohingyas for deportation to Myanmar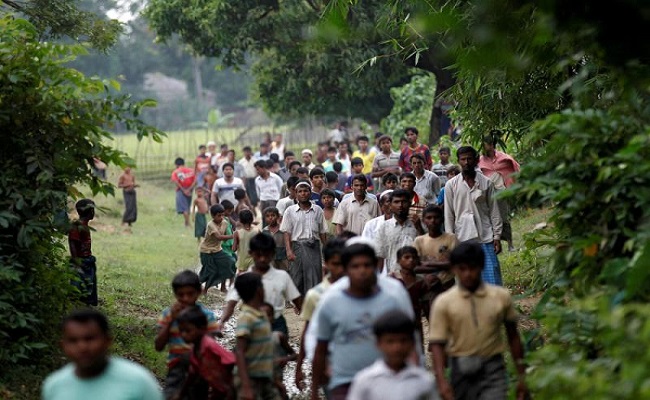 Twenty three more Rohingyas are being sent back to Myanmar from Assam, following the recent repatriation of seven of their compatriots from India earlier. Their return to Myanmar follows an agreement involving three governments--- the Assam Government, Government of India and the Myanmar authorities. The decision was arrived at after prolonged negotiations and an elaborate process of identification and fact-checking.
According to recent reports appearing in a section of the Northeast media, Assam Government sources claimed that the Rohingyas had 'agreed to return'. This, in view of the difficulties faced over the return of seven people earlier, seems surprising, on the face of it. Till the moment of their departure, all seven had expressed their deepest reluctance to leave Indian soil. The assurances given by Myanmar administrators to the effect that their safety would be ensured when they returned to the Rakhine province brought them little cheer.
Kolkata-based observers felt Assam authorities might have tried to avoid giving any impression that the Rohingyas 'were being pressured to go home,' to forestall possible campaigns by civil rights groups.
The latter have been very active over the Rohingya repatriation issue. They have opposed the Centre's decision to deport all 40,000 Rohingyas currently settled on Indian soil. The line taken by the Supreme Court, while intervening in a PIL over the Rohingyas, also broadly favoured the Government's approach. The court silenced HR activists with its query, what about the Rohingyas who are being accepted by Myamar government as its citizens.
For some time now, the Rohingyas have been putting up in camps and makeshift settlements in parts of greater Delhi, Hyderabad, Jammu and Kashmir, Haryana and other areas. An estimated 200 people are known to be staying at the Southern suburbs of Kolkata, their status left undefined.
Some people were arrested as they tried to go to Banglaore by rail, presumably looking for work. Some Rohingyas putting up in camps in north India have been known to work on odd jobs locally to make ends meet. The United Nations authorities only provide for financial help to those established as refugees, after a thorough review of the claims made by the people displaced from Myanmar. This takes time. Local NGOs have however chipped in with some assistance, as have some minority organizations.
There is no doubt about the hardships the Rohingyas face in Myanmar, and the brutal ruthlessness of the Myanmar army and paramilitary troops. There is some sympathy in India for their plight and the indifference of the world towards their condition.
However the ruling Bharatiya Janata Party (BJP) has taken the position that it would not be possible to take a soft position on the matter, or seriously consider giving them any permanent settlement in India. Its position is similar to that of the present Awami League-Government in Bangladesh. Both countries insist Myanmar must act as a responsible country and take back its own citizens who have been living there for generations.
'Sheltering people desperately fleeing from religious/political persecution temporarily is one thing and India is doing this already. But finding a permanent solution to the festering ethnic crisis prevailing in Myanmar for decades is the responsibility of Naypitaw authorities, it is the kind of business the Government of Myanmar must address and settle as early as possible. Why should India or Bangladesh for that matter, Dhaka has paid a very heavy price for its humane policies on the issue, unlike other countries --- be made to accept millions of people fleeing Myanmar on a permanent basis on their soil without recourse to minimum legal procedure?, asks BJP legal cell convenor Shantanu Sinha.
HR activists in contrast insist that the first batch of seven people who have 'returned home' may be killed any time, if they had not been arrested and 'disappeared' already. They claim that most other Rohingyas settled in camps in India have no intention to follow their example.
While Assam authorities have been co-operating with Delhi on the Rohingya issue, as are most other state governments, there is an obvious lack of centre-state co-ordination when it comes to West Bengal or Jammu and Kashmir. From Chief Minister Mamata Banerjee downwards, opposition parties have been vocal calling for a more humane approach, including the provision of political asylum if necessary for those displaced from Myanmar.
The centre is known to have advised Ms Banerjee strongly against adopting a very soft pro-Rohingya position as it will strengthen the obduracy of the Myanmar authorities on this issue. Significantly, when Union Home Minister Rajnath Singh reasserted the Government's firmness to see the return of the Rohingyas at a joint press briefing with Ms Banerjee during his last visit to Kolkata, she remained silent.
However, there have been allegations from the Gorkhas settled in Dooars and other North Bengal areas that they have seen mysterious settlements of odd groups of people not speaking the local languages come up in the river 'chars' and other deserted places of late. They have drawn the attention of the central Government, as they doubt the sincerity of the west Bengal Government in dealing with such matters.