PM to brief media on Monday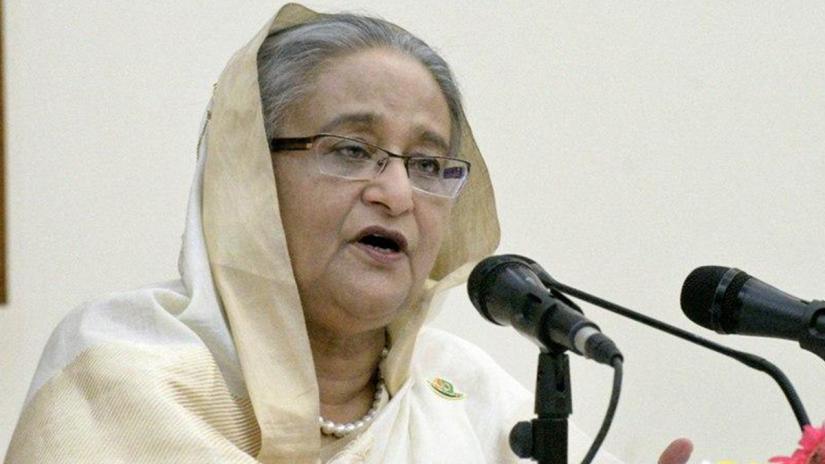 Prime Minister Sheikh Hasina will be holding a media briefing at her Ganabhaban residence on Monday (Oct 22) at 4 pm.
She will be briefing the media on her latest visit to Saudi Arabia at the invitation of the Saudi king.
The prime minister is also expected to address the current events of Bangladesh apart from the issues related to her recent visits abroad.
Hasina flew for Saudi Arabia on Tuesday at the invitation of King Salman bin Abdulaziz al Saud.
She returned home early on Saturday wrapping up her four-day visit to the Middle Eastern state.
During her stay in Saudi Arabia, the prime minister had separate meetings with the Saudi king, and Crown Prince and Deputy Prime Minister Muhammad bin Salman in Riyadh on Wednesday.
She performed 'Umrah' in Makkah on Thursday and offered ziarat at the Rawza Mubarak of Prophet Hazrat Muhammad (PBUH) at Masjid Al-Nabawi in Madinah on Wednesday night.
Besides, Hasina had a meeting with the Saudi business community, including leaders of the Council of Saudi Chamber (CSC) and Riyadh Chamber of Commerce, at Riyadh on Wednesday when five memorandums of understanding (MoUs) were signed between the two countries.
The prime minister also opened the Chancery Complex of Bangladesh Embassy constructed on its own land at the Diplomatic Quarters in Riyadh on Wednesday and laid the foundation stone of the Chancery Building of Bangladesh Consulate in Jeddah on Thursday.